Message from the Chairperson of İTB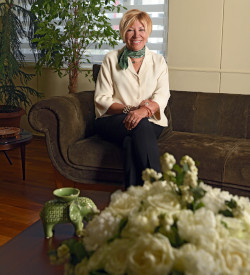 Established in 1891, İzmir Commodity Exchange (ICE) has contributed tremendously to the economy of İzmir, Aegean region and Turkey. Bringing trust to the commercial life of Turkey, İzmir Commodity Exchange has been the creator and pioneer of numerous initiatives and projects from active transaction halls and registration of the transactions to laboratory, Turkish Derivatives Exchange, licensed warehouse and electronic transaction platform for agricultural commodities. This strength is the product of our visionary DNA which first dreamed and then realized the foundation of Turkey's first commodity exchange 123 years ago.
Founded by the efforts of Nişli Hacı Ali Efendi and a few merchants gathered around him, İzmir Commodity Exchange strives for keeping alive the tradition of commodity exchange by keeping pace with the novelties. In pursuit of this goal, the primary strength of us will be information and communication.
Today, people who are engaged in farming do not wake up every morning feeling anxious about the weather conditions. They plan their plantations according to daily and hourly reports obtained from the meteorology. They determine which fertilizers to use and when to plant by consulting to the experts. Farmers monitor the values crops attain in the global markets. Traders closely follow the changing legislations of the foreign markets to which they export.
By renovating the website of İzmir Commodity Exchange, we aim at accelerating the transfer of information among its members, eliminating the formalities to communication and serving to render İzmir a more powerful and competitive international center in agriculture.
Turkey is the 9th largest agricultural country of the world with an overall production volume of 62 billion USD. Nevertheless, it ranks 27th in the food and agricultural exports, according to the data released by the World Trade Organization. This picture leaves us no choice but attach importance to trade and marketing while increasing our strength in production.
Realizing 12% of the national agricultural export, İzmir has the responsibility to pioneer and motivate all actors of the sector. İzmir is definitely aware of that we should strive to satisfy the need for R&D and innovation in order to create added value in agriculture and livestock.
İzmir has the potential to obtain a new and competitive identity among the rapidly changing global agricultural arena. It can be the heart of the organic farming, agro-tourism and arboriculture, and easily transform into an indispensable center of the artichoke, sour cherry, hazelnut, turkey meat, corn silage, aromatic and medicinal plants. İzmir, together with the other Aegean provinces can be easily converted into so-called Silicon Valley of the organic farming.
In this transformation journey, İzmir Commodity Exchange will act as a loadstar.
In order to create our common future together, I cordially invite you to share your comments and wishes with us.
Işınsu Kestelli
Chairperson of İzmir Commodity Exchange